Why Your Business Needs a GPU Server for Data Processing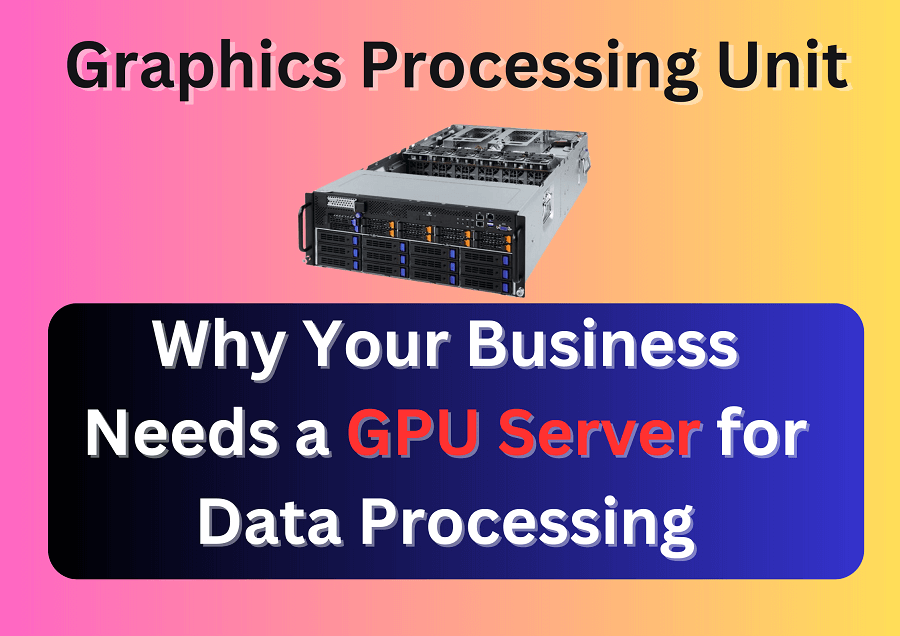 Introduction
In today's data-driven world, businesses are generating vast amounts of data from various sources. Effectively processing and analyzing this data is crucial to gaining valuable insights, making informed decisions, and staying competitive. Traditional CPUs have been the standard for data processing, but with the exponential growth of data and the complexity of modern applications, they are proving insufficient. Enter the GPU server – a game-changer for data processing. In this blog, we'll explore why your business needs a GPU server for data processing and the significant advantages it offers.
1. Unmatched Parallel Processing Power
The primary advantage of GPU servers lies in their ability to perform parallel processing on an unprecedented scale. GPUs (Graphics Processing Units) were originally designed for rendering graphics, but their architecture is uniquely suited for parallel processing tasks, including data processing and scientific computations. Unlike CPUs, which consist of a few cores optimized for sequential tasks, GPUs comprise thousands of smaller cores capable of handling numerous calculations simultaneously.
This parallel processing power enables GPU servers to process large datasets and complex algorithms significantly faster than traditional CPU-based systems. Businesses dealing with massive amounts of data, such as AI, machine learning, deep learning, and data analytics, can experience remarkable speedups in their processing times with GPU servers.
2. Accelerating Machine Learning and AI Applications
Machine learning and artificial intelligence have become integral to many businesses, enabling them to automate tasks, improve customer experiences, and optimize operations. These applications rely heavily on matrix and vector operations, which are ideal for GPU parallel processing.
With a GPU server, training complex neural networks that may have taken days or weeks on a CPU can now be accomplished in hours or even minutes. Additionally, real-time AI-driven applications, such as natural language processing and computer vision, benefit from the speed and efficiency of GPU servers, ensuring rapid responses and seamless user experiences.
3. Enhanced Data Visualization
Data visualization is essential for understanding complex datasets and communicating insights effectively. Interactive data visualization tools often require significant computational resources to render and manipulate data in real-time. GPU servers excel in handling these visualization tasks, providing smooth and responsive visual representations of data, even with large datasets.
By harnessing the power of GPU servers, businesses can empower their data analysts and decision-makers with advanced visualization tools that enhance data exploration and facilitate data-driven decision-making.
4. Cost-Effectiveness and Energy Efficiency
While GPU servers initially require a higher investment than traditional CPU-based systems, they deliver unparalleled performance gains, making them highly cost-effective in the long run. With faster data processing times, businesses can achieve more in less time, leading to increased productivity and faster time-to-market for products and services.
Moreover, GPU servers are also energy-efficient. Due to their parallel architecture, they can perform complex computations with lower energy consumption compared to CPU-based systems, resulting in reduced operational costs and a smaller environmental footprint.
5. Future-Proofing Your Infrastructure
Investing in a GPU server represents a strategic move to future-proof your business's infrastructure. As data processing requirements continue to grow and evolve, GPU technology is at the forefront of cutting-edge advancements in high-performance computing.
By integrating GPU servers into your data processing workflows, you position your business to handle future challenges and capitalize on emerging opportunities. This scalability ensures your infrastructure can keep pace with the ever-increasing demands of data-driven applications, giving you a competitive edge in the market.
Also Read: Unlocking the Power of Data: Exploring HPE Storage Management Utility
Conclusion
In conclusion, a GPU server is a game-changing investment for businesses looking to supercharge their data processing capabilities. The unmatched parallel processing power of GPUs enables faster and more efficient processing of massive datasets, accelerating AI and machine learning applications and enhancing data visualization. Moreover, the cost-effectiveness, energy efficiency, and future-proofing aspects make GPU servers a compelling choice for businesses striving to stay competitive in the data-centric era.
Embracing GPU technology allows your business to process data at unprecedented speeds, gain deeper insights, and make better-informed decisions, ultimately driving growth and success in today's data-driven landscape. As the volume of data continues to surge, businesses that harness the power of GPU servers for data processing will undoubtedly remain at the forefront of innovation and drive transformation across various industries.
---
FAQ (Frequently Asked Questions)
---
A GPU server is a type of server that is equipped with powerful graphics processing units (GPUs) in addition to traditional central processing units (CPUs). GPUs are specialized hardware designed for parallel processing and excel at tasks such as data processing, machine learning, and artificial intelligence.
How is a GPU server different from a CPU-based server?
A GPU server differs from a CPU-based server primarily in terms of processing capabilities. While CPUs are designed for sequential processing, GPUs excel at parallel processing. This makes GPU servers highly efficient for data-intensive tasks that require simultaneous computations across multiple data streams, such as machine learning and big data analytics.
Why does my business need a GPU server for data processing?
A GPU server offers several advantages for data processing tasks:
Enhanced processing power: GPUs provide significantly higher processing power compared to CPUs, enabling faster data processing and analysis.
Accelerated machine learning and AI: GPU servers excel at training machine learning models, reducing training times and improving model accuracy.
Big data analytics: GPU servers can efficiently handle large datasets and complex analytics tasks, enabling timely insights and data-driven decision-making.
Cost efficiency: Despite higher upfront costs, GPU servers can deliver long-term cost efficiencies through reduced hardware requirements and time savings.
Can I use a GPU server for cloud computing?
Yes, many public cloud providers offer GPU instances that can be used for cloud computing. Providers such as Amazon Web Services (AWS), Microsoft Azure, and Google Cloud Platform (GCP) offer GPU instances, allowing businesses to leverage GPU power on a pay-as-you-go basis, optimizing costs and scalability.
Are GPU servers suitable for all types of businesses?
GPU servers are particularly beneficial for businesses that deal with large-scale data processing, machine learning, and AI applications. Industries such as healthcare, finance, retail, and research heavily rely on data-driven insights and can greatly benefit from the processing power and efficiency of GPU servers. However, it is essential to assess specific requirements and consult with experts to determine the suitability of GPU servers for individual business needs.
Are there any drawbacks to using GPU servers?
While GPU servers offer significant advantages for data processing, there are a few considerations:
Upfront investment: GPU servers typically require a higher initial investment compared to CPU-based servers.
Power consumption: GPUs consume more power compared to CPUs, which can lead to higher energy costs.
Software compatibility: Some software may require optimization or specific libraries to fully leverage the power of GPUs.
However, the benefits of GPU servers often outweigh these considerations, especially for businesses with data-intensive workloads.
How do I choose the right GPU server for my business?
Choosing the right GPU server involves evaluating factors such as your specific workload requirements, budget, scalability needs, and compatibility with existing software and infrastructure. It is advisable to consult with technology experts or solution providers who can assess your business needs and recommend the most suitable GPU server configuration for optimal performance and cost-effectiveness.
Are GPU servers cost-effective compared to traditional servers?
While GPU servers may have a higher upfront cost than standard servers, they are cost-effective in the long run due to their superior processing capabilities. By significantly reducing data processing times, businesses can achieve higher productivity and faster time-to-market for products and services. Additionally, the energy efficiency of GPU servers contributes to reduced operational costs over time.
Can I use GPU servers in my existing data center or cloud infrastructure?
Yes, you can integrate GPU servers into your existing data center or cloud infrastructure. Many cloud service providers offer GPU instances that you can easily add to your current cloud-based workflows. For on-premises data centers, you may need to ensure compatibility and appropriate power and cooling requirements to accommodate GPU servers effectively.